Baroque
Thick build, Shorter leg to body ratio.
Classical
Even ratio of leg to body, thicker build than modern and thinner than baroque
Modern
Commonly referred to as sport type, longer leg to body ratio thinner build.
Dam's Body Type
Listed from Most Baroque to most Modern
Grace
Yophie
Wynnar
Walleke
Tooloolaa
Hooraa
Fokelien
Izzabella
Aje
Talija
Elatsje
Ibetsje
All our mares have individual web pages on Sable Ranch's web page visit the Mare pages HERE
Picking a Dam for your dream foal can be complicated, this page helps you sort through the common traits that people look for in a Friesian while listing the mares names that are posted on the for sale page to help you "plan" your foal. There are no guarantees as breeding is a gamble but there is a tendency for offspring to carry on the traits of the Dam and Sire. Maiko 373 is Classical built, long hair, a quiet gentleman and 16 hands tall. He is known for good riding horses with fantastic trots and trainability and good temperament. All of the Dam's are riding Dam's however Ester Tooloolaa and Grace can also be Driving.
Body Type
This is based on the frame of the horse not the movement or hair of the horse. There are three common types of Friesian builds: Baroque, Classical, Modern.
Height
Listed from Tallest (16.1 hands) to shortest (14.3 hands)
Toolooaa
Fokelien
Ibetsje - young still growing
Elatsje
Hooraa
Izzabella
Wynnar
Grace
Aje - Produces taller modern
Walleke- Produces taller classical
Talija - still growing
Yophie - Still growing (16.1h dam)
Temperament
Listed from Coldest to Hottest
Grace
Yopohie
Talija
Wynnar
Izzabella
Walleke
Tooloolaa
Hooraa
Fokelien
Elatsje
Aje
Ibetsje
Hair
Longest to shortest for mane
Yophie
Grace - over 3 ft
Tooloolaa - over 3 ft
Hooraa -
Izzabella-
Wynnar
Talija
Walleke - very thick tail
Elatsje - extra long forelock thick tail (dam has history of long hair) Mane avg for a Friesian
Ibestje - Thick tail, thin shorter mane and forelock (damline has a history of long thick hair.)
Aje (thick tail thin mane dam line has history of long hair)
Fokelien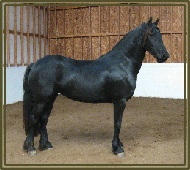 Picking your dream Friesian