Fudge - Black Morgan Mare - 4yo
Black with a blaze/snip no leg markings. Lots of hair. Very flashy mare with a very nice head. She has a lot of flair and energy and is very athletic. She likes people. Amish trained to ride. She needs consistent work because she has a lot of energy. I don't have that kind of time to put into her and we are downsizing our operation. She would make beautiful ½ friesian, or ½ arab foals or put her in foal to a Morgan.
$2800 takes her now that she is trained
Video - first few rides in deep mud and she did great
Video - on the lunge line
Vanilla - Paint Mare - 10yo
Grey paint mare, not registered, but could be, very clear paint markings under her tail would make her easy to register for color. She has as a bit of get up and go under saddle and was ridden by a teenager. UTD on worming , teeth and shots. She can get a little lean , but with her teeth done she's been great. She is always the first to run up when called. She has fun playing with the farm dog. All round nice mare, easy to scan for ultrasound. Would make pretty Friesian x babies or even paint babies. We planned to put her with our Friesian Theodoor for a chance at color foals or our Gypsy stud (guaranteed color)
$3000 takes her
Because life doesn't always turn out how we need it to we are reducing our herd significantly. Our loss your gain
Sprinkles - Grey QH Mare - 10yo
Grey QH mare, not registered, but if you did a DNA on her it's likely she's got papers somewhere. But they were not given to us on purchase. Has been ridden in a feed lot so she has seen a lot and been there done that. They were rough on her so she deserves a kind gentle handler that will not hurt her anymore. She's not a technical rescue horse as she was purchased, but she had a lot of physical sores when she arrived from tack. She is healed and a sweet mare. She has an absolutely gorgeous head and HUGE QH bum. We had planned to put her with our Friesian or Gypsy stallion but we have not time. She's a very very pretty mare.
$2000 takes her
Strawberry- Appendix 2012 Mare
Strawberry roan mare. Mostly chestnut but flecks of white in spots are visible. She's got 2 back socks and some white on her face. She is very sweet. We just got her teeth done this year, she's UTD on shots/worming. She's been ridden but it's been a while. She has a very sweet nature so I'm sure she'll start back up very easily. She's a delight to be around and loves being brushed and time spent with her. I just don't have time to train horses and can't risk riding right now. Photo shows her in winter fat, but she's leaner now that it's warmer out (but easy keeper)
IN FOAL WITH PURE FRIESIAN FOAL
(MAIKO 373 x JASPER 366)
$12,000 takes her Ultrasound photos available)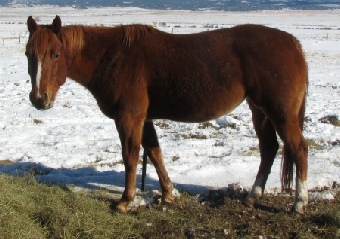 Raspberry - 8yo mare
This is the sweetest smartest mare I have been around. She is likely a Morgan, but comes with no papers. She's great with other horses. She is always in the mood to snuggle. She is not for riding as she has ring bone. She's not for breeding incase her issues are genetic (she had them when we got her). She is a lover and if anyone wants to have a sweet companion horse (must have other horses, she will not do well alone) This is the best mare. I really had hoped I could use her as a surrogate for Embryo Transfer but things are not going as planned. She is pasture sound barefoot so no special needs right now, just no riding.
$400, some offers considered but must be the right home, she is very loving and smart.
Chocolate
AQHA Quarter Horse Mare - 10yo
CW Kipnik N Cookies (5010722)
(Zips Chocolate Chip x Kipnic (Boomernic))
Black mare one hind sock. A lot of hair and very pretty head. She has been ridden and driven by the Amish and she's done a lot with them. She is easy to catch and be around, not spooky. Lives great in a group. Does not like living in a stall situation, pasture is best. Comes when called up. UTD on teeth, shots, worming. Would make great babies, has a good hart. Either QH or Friesian x would be good.
$7500 takes her


Blueberry- Black/White Paint
10yo This is a very pretty mare. Her color pattern is stunning. Medicine hat, big sections of black and white color. She has one blue eye and one brown. She has a beautiful head and big QH bum. We had planned to ET her then when she got older use her with our Friesian or Gypsy stallion to make ½ babies. She is built well and is very light on her feet. We have not ridden her and have no riding history on her. She was bought for breeding. She doesn't have papers but could be pinto registered easily and all her foals could also be pinto. Her color pattern in a ½ friesian would be amazing and even a ½ gypsy. Can be sold with stud service to our stallions (additional cost for AI breeding/stud fee)
$2,500 takes her